Kovai Digitech. offers A VoIP Phone System / IP PBX system consists of one or more SIP phones / VoIP phones, an IP PBX server and optionally includes a VoIP Gateway. The IP PBX server is similar to a proxy server: SIP clients, being either soft phones or hardware based phones, register with the IP PBX server, and when they wish to make a call they ask the IP PBX to establish the connection. The IP PBX has a directory of all phones/users and their corresponding SIP address and thus is able to connect an internal call or route an external call via either a VoIP gateway or a VoIP service provider to the desired destination.
IP media gateways convert phone calls between legacy circuit-switched technologies and modern packet-switched technologies ( VoIP). You can use gateways to connect legacy phone lines with your EPBX system or to connect legacy phone systems with VoIP services and features.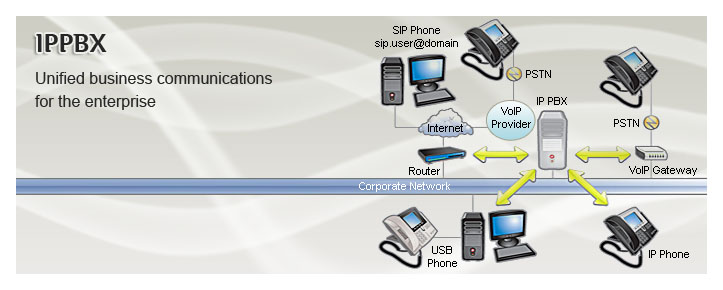 IP PBX Solution to Corporate Houses from across the world, which helps to minimise their monthly Telephony expenditure while providing a more efficient channel of communication. IP PBX Management System that delivers a full portfolio of business communications functions over a single, "converged" network connection. SIP complaint IP PBX provides a comprehensive array of individual station and call management features with codec support. You can make use of IP Telephone sets, a PC with SoftPhone software (Webphone, Dialer), or Analog telephones (via media hubs), Wireless Phone, ISDN or Key Phones to access the services
At the center we have, the IP PBX. Starting from the bottom, we see the Corporate Network. This is the company's local network. Through that network, Computers running SIP clients such as the 3CX softphones, and IP Phones connect directly to the PBX. On the left, we see the company's router/firewall connected to the internet. From there it can connect to remote extensions in the form of computers running the softphones, remote IP Phones, mobile devices running the 3CX Android and iOS clients, and Bridged PBX's. Using a VoIP provider we can connect to the PSTN network. To the right a VoIP Gateway connects the PBX directly to the PSTN network.
FEATURES
Customisable IVR System Personalised Voice Mail
Call Forwarding
call Transferring
Multi Party Conference
DID Management
Customised Reporting
Call Waiting
Caller ID
Dial by Name
Dial by Extension
Music on Hold
Three-way Calling
Call Park
We provide a complete package of IP/PBX which helps corporates and small business for More cost effective options for voice traffic, Enterprise Data and Phone networks merged, Lower cost Moves, Adds, and Changes etc. Together these features will provide the necessary boost to your organisation, enabling it to climb the stairs of success by increasing the efficiency and overall productivity.